Written on 11/05/2021
---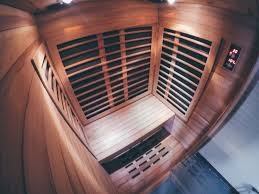 Is An Infrared Sauna Better Than A Traditional Sauna?
There is nothing quite like a session in a sauna to help you feel rejuvenated and relaxed. In addition, the heat from a sauna can help with muscle soreness and your overall health and well-being. However, regular steam saunas can be a lot for some. In addition, it can be a bit uncomfortable to be in a sauna for extended periods with high temperatures.
If you're wondering if there is a solution for this problem, then an infrared sauna session in Plymouth, MI, at PHR Laser Centers might be just the answer for you.
What Are Some Of The Benefits Of Using An Infrared Sauna?
An infrared sauna shares many of the same benefits that the use of a traditional sauna has. While conventional saunas use steam to heat the entire room, an infrared sauna uses infrared lamps to heat you directly, making the experience less. The use of a sauna dates back hundreds of years and has been known to have the following benefits for its users:
Improved circulation
Detoxification
Pain relief
Clear skin
Joint pain relief
Better sleep
Deep relaxation.
While there is still research about the added benefits of using an infrared sauna, there have been almost no reported adverse effects to using an infrared sauna. So even if a session doesn't help with all of these prolonged issues, it can be a great way to unwind from the stress of everyday life.
Is Using An Infrared Sauna Is It Different Than A Traditional One?
The main difference in using an infrared sauna over a traditional one is how the sauna heats the body. However, both share many of the same promised benefits of using a sauna. The other thing with an infrared sauna is that you choose to control the temperature over that of the steam sauna.
Just like a regular sauna, you'll want to start in smaller intervals working up to higher temperatures and ensuring that you are hydrated throughout your session to make sure you do not become dehydrated during your time in the sauna. At PHR Laser Centers, we provide the safety and well-being of all our clients who book a session with us.
Questions About Booking A Session?
Booking a session for an infrared sauna can be a bit unfamiliar for those who have never been to one before. It is why our staff at PHR Laser Centers is dedicated to informing all of our clients on all the services we offer. Suppose you have any questions or concerns or want to book yourself the best-infrared sauna session in Plymouth, MI. Then call us today at (734) 207-7770 to book an appointment and find out about all the incredible benefits of a session in our sauna.