Written on 04/01/2023
---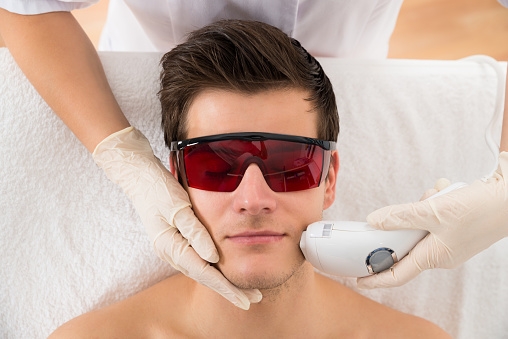 With summer approaching, you are probably eager to start wearing clothes to show off your arms, legs, and that great tan that you'll be getting from spending, some extra time in the sun! However, with the upcoming warmer weather there is the dreaded task of having to shave our legs, wax our arms, bikini areas, and other places we so desperately want to remove the hair from. The only problem with these solutions is that their results are only temporary.
Each method only promises a couple of weeks at most of smooth skin before the hair makes its return, and you're once again shelling out your hard earned money for another waxing session, or trying to pull off some contortionists stunt in the shower while you try to shave your legs.
If you're looking for the solution to all of your hair removal woes, look no further then laser hair removal. It may seem a bit scary seeing the word "laser "and thinking of a laser gun being aimed at the more sensitive areas of our body. However, the process isn't scary at all it is the safest and most effective alternative for dealing with unwanted hair on any part of your body.
If you're still nervous about starting a laser hair removal session, at PHR Centers they offer consultations in which during that time you will learn about the process of laser hair removal, and technicians take the time to educate their clients on the importance of the sessions.
PHR Centers, technicians are knowledgeable and highly trained to answer any and all the your questions, all while making sure you feel nothing but comfort and ease during your sessions. They specialize in laser hair removal for men, women, and children.
Using the latest technology, The Vectus laser, the process is virtually pain free, quick, and permanent. Laser hair removal is done during single treatment session. The laser is used to destroy follicles during active growth phases, which depending on your hair growth, the density, and the results you are looking to achieve, your overall treatment could involve several sessions, since hair growth occurs in cycles you'll want to make sure to keep a gap of about 8 weeks in between sessions to ensure the best results for laser hair removal.
With laser hair removal, you won't worry about picking up, a razor this summer or having your skin deal with the harsh heat of waxes or other chemicals that could ultimately cause long lasting damage to your skin. Say goodbye to unsightly hair on your body this summer and show your flawlessly smooth skin off to the world.
Feel empowered in your skin and comfortable without feeling like you want to hide in layers of clothing because you didn't have time to shave, or get in for a wax. Still unsure whether laser is right for you?
Why not schedule a consultation below and find out for sure.
Let us help you be the best version of yourself!