Written on 10/01/2023
---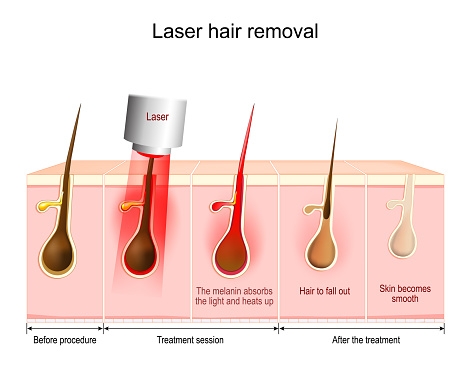 Although summer may be over, and you have already packed your bikini away and are ready to wear your favorite sweater. You wouldn't believe that the right time to get laser hair removal would be the fall. Although it will be sometime before we can start lounging in the sun again, our team at PHR Centers wants you to be ready for next summer, by having you come in for laser hair removal treatment.
Laser hair removal is a great way to say goodbye to that unwanted hair on your body, especially in your bikini area. Shaving and waxing are other alternatives, but why keep spending your hard-earned money only to have to shave or wax your body again in a couple of weeks? Not to mention having to deal with bothersome razor bumps or irritation that can occur from waxing or shaving.
Why the Fall Is the Best Time to Get Laser Hair Removal
You're probably wondering why you would wait until fall to get laser hair removal. Usually, with the cooler weather, you'd find yourself bundling up and hiding your skin. However, with laser hair removal after you receive treatment it is best for the skin not to be exposed to sunlight, and with you adding on the additional layers for the cooler months it makes for the perfect time to consider booking your laser session with us at PHR Centers.
We use only the best, Vectus and Light Sheer Lasers, on our clients. It includes a Sapphire Chill tip that is available and protects your skin, before and during treatment. The laser works to target your hair follicles and is great on any client's skin type, and hair type and can treat large areas like your entire leg or bikini area within fifteen minutes. You'll see the results instantly, of smoother and hairless skin.
Our highly trained technicians only want to help you eliminate the unwanted hair from your body, and have been highly trained to deal with clients of all hair types, especially those who may be suffering from conditions such as PCOS or hidradenitis suppurativa. With just four to six sessions, you can zap away the hair in your bikini area and be hair free right before the summer rolls around again!

Contact Us
Why not call us and schedule your free consultation to see if laser hair removal is right for you? See for yourself why PHR Centers of Plymouth, has been trusted by our clients over 40 years for all their laser hair removal needs, call our office at (734) 207-7770 and schedule your free consultation with us today!